Great website design will only take you so far when it comes to setting up your website. The other important factor that most people don't consider is SEO (search engine optimization). SEO is what helps your website get found in organic search engines, like Google. Organic traffic is one of the easiest ways to increase your website traffic.
Disclaimer: As an Amazon Associate, I earn from qualifying purchases. Some of the links on my website are affiliate links, which means, at no additional cost to you, I will earn a small commission if you click through and make a purchase.
This guide will cover how to optimize your Squarespace website properly so that your organic traffic increases over time.
One important thing to note is that SEO is a long game. Making website changes doesn't mean you will see immediate results, search engines need to re-index your site after changes have been made to, which takes time. Even after your site has been re-indexed by the search engine, it will take even more time for the optimization to gain momentum to the point where you see amazing results.
We touched on what exactly SEO means and how it works, so let's dive into how to optimize your website on the Squarespace platform specifically!
Perform Keyword Research
The first step in the optimization process is keyword research. Don't just wing this step and pull keywords or phrases off the top of your head. Do some actual research using a variety of tools like Google AdWords or SEMRush.
Optimize Your Page's Title and Meta Description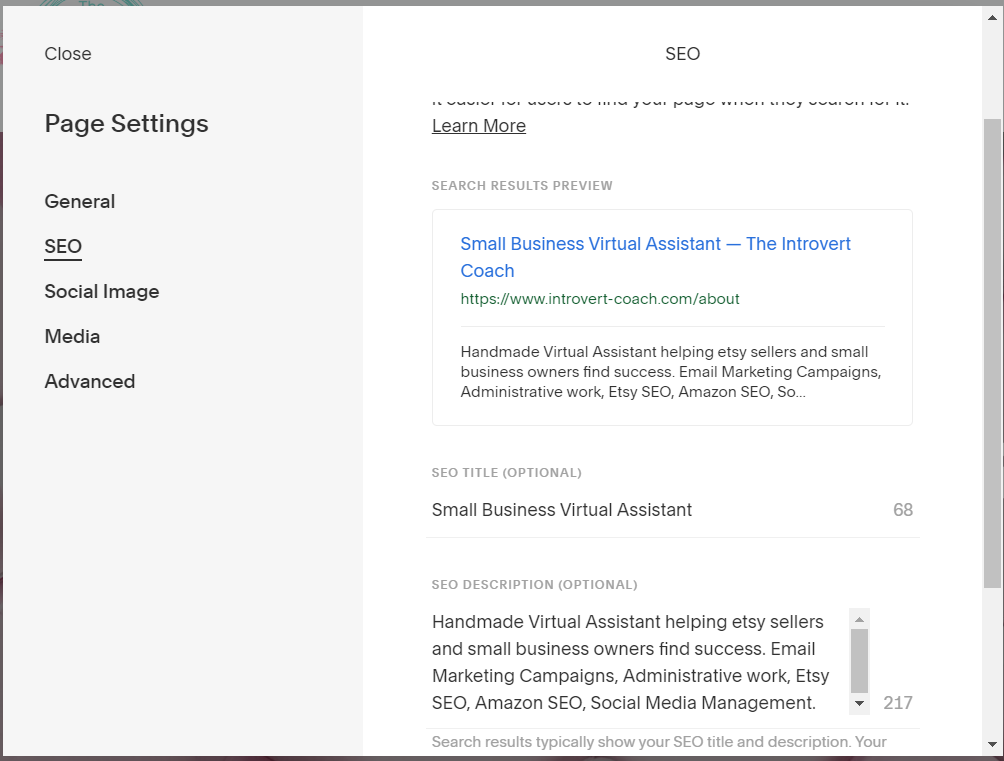 Once you have your keyword research completed a list of keywords and keyword phrases written out, the first step is to optimize all of the titles and descriptions for your individual site page's. If you don't take this extra step, the title and description will be auto-populated and that's usually not a good thing!
Under your settings choose Pages and then click the little gear icon next to each of your pages. On the Page Settings window, select SEO, and then change the SEO Title and SEO Description optional fields.
Don't overstuff these fields with keywords.
Your title field should be 50-60 characters in length and be easily readable while accurately describing your page content. Your meta description field should be no longer than 160 characters and be written in sentence form, too. No keyword stuffing a variety of keyword phrases. Choose your most important ones for each page and make them easily flow in a sentence or two.
Optimize Your Website's Images
When it comes to making sure all images on your website are optimized, there are two things you need to make sure are done:
 Name your files correctly – If I am adding an image to a blog post titled "How to Optimize Your Squarespace Website and Increase Traffic" I would want to rename my image to how to optimize your Squarespace website.png instead of image98585.png

Add ALT Tags to all images – This can easily be done in Squarespace by clicking on the little gear icon for images that are added via image blocks, gallery page images, gallery blocks, product images or cover page images. ALT text is automatically added as the title for blog post thumbnail images and event thumbnails on Squarespace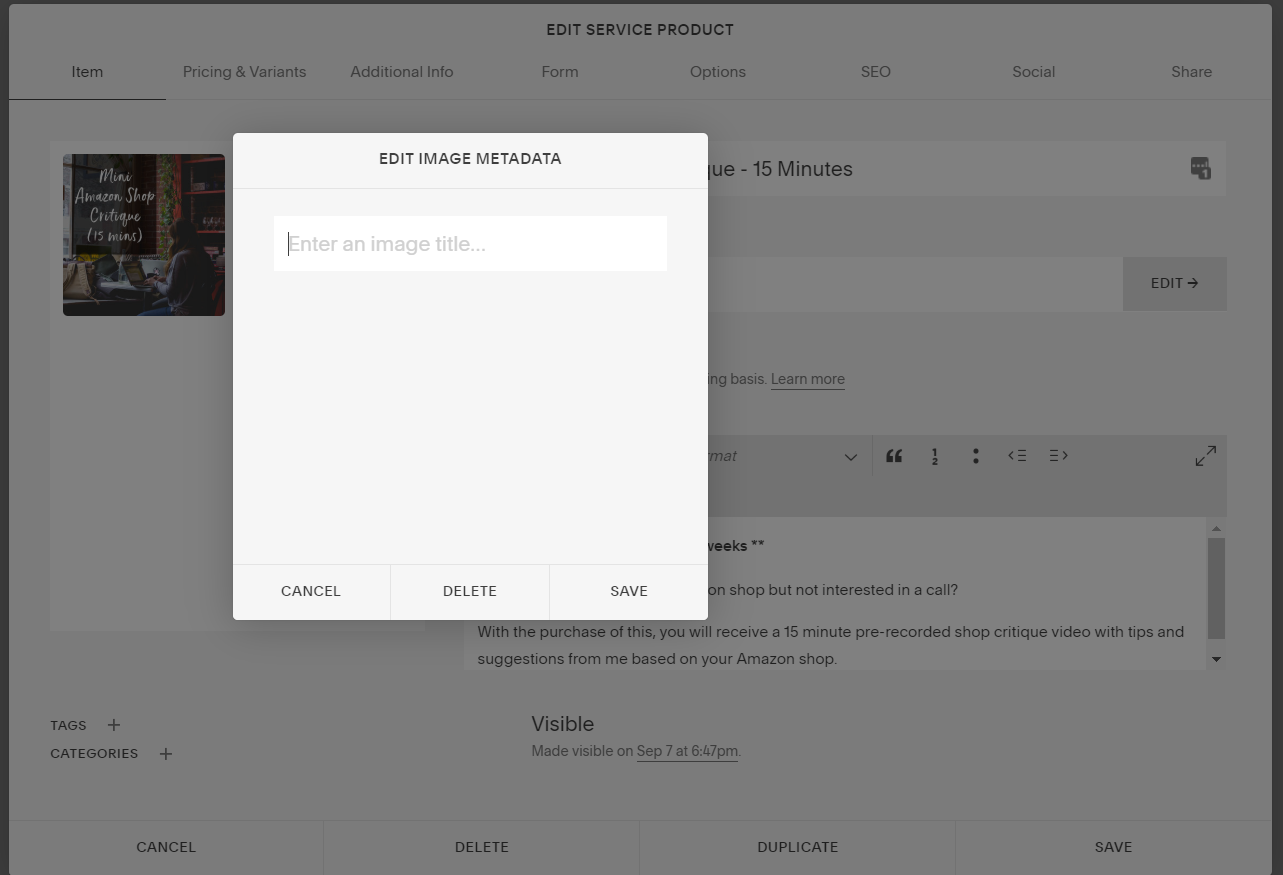 What is ALT text?
ALT text is used if an image can't be displayed, and it also helps with Google and other search engines indexing your website images. Keep your ALT text short, preferably 12 words or less, and make that it accurately describes the page content and the image itself.
Optimize Your Website URLs
Under the Options tab for blog posts and pages, you can change the URL for your website's pages. For example, the URL introvert-coach.com/marketing for an email marketing page would be okay, but changing it to introvert-coach.com/email-marketing-service would be optimized even better. Again, you don't want to overdo it, long URLs aren't better. You need to use additional words here strategically and wisely!
Final Thoughts
There are plenty of other factors that affect your organic search ranking and are factored into SEO, such as backlinks (how many websites link back to yours and what is their authority level?), your overall site health and history, your amount of content, and how often new content is added, etc.
The tips I've listed above are the main on-page optimization options that you can truly control when it comes to growing your organic search traffic and are a good starting point for anyone who has a Squarespace website to increase traffic.
[elementor-template id="16558″]